DISCONTINUED 2019



RBC Large Metal T Nest Box for cockatoos


SHIPS OVERSIZED
Shipping is normally around $50-60 to almost anywhere in the 48 states.

COMES ASSEMBLED READY TO USE

Due to the large volume of orders at breeding time Allow several days for shipping as many orders are processed and boxes are made as orders come in. Nest boxes are not items sitting around waiting to be shipped.

Professional Breeder Boxes.

Breeder boxes are not returnable due to possible exposure to birds, Make sure you know what you are ordering
All USA Metals
Shipped completely assembled.

These all metal 24 guage galvulum alloy boxes have the lowest amounts of heavy metals compared to the sheet metal boxes on the market today.

The large T is 36 inches across 27 inches from top to bottom
entry holes (2) 6 x 6 inches
nesting chamber 18 x 15

Breeders must use their own judgement on what type and size box they need.
Due to possible exposure to unknown birds, Breeding equipment is non returnable due to breeder ordered wrong size box. make sure you know what you are ordering.
You must be able to determine what you need for your birds, we only list the types of birds and boxes that most people order for. Its up to you to know what you will be using them for. We are not responsible for what size you need.
If you need help or info just ask, email royalbirdcompany@bellsouth.net



These T boxes also have inside baffle to force the male/female cockatoo to enter the nest and go down the ladder to the nest chamber, this keeps birds from damaging eggs from crashing and also helps the female escape aggressive males out the other entry hole.

Each box has twin set of ladders to the nesting chamber.
The access slide door is on back.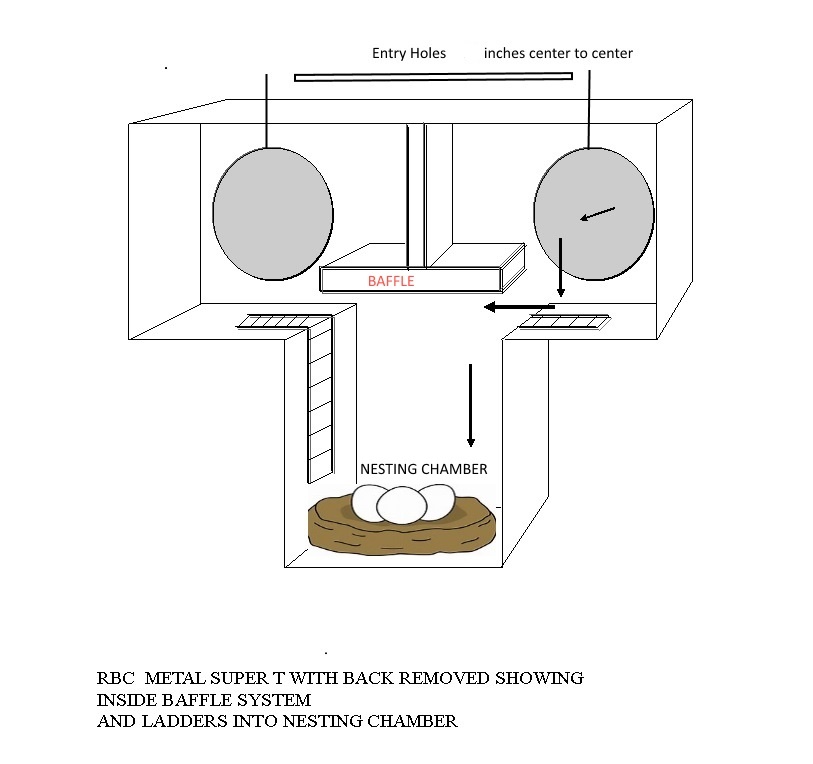 These boxes designed to hang outside the cage with hanging s hooks.
S hooks are supplied if checked above.

Or can be bolted to cage(recommended)

Metal boxes are more sanitary easy to clean than old wooden chewed boxes that have to be replaced most of the time right when the birds start nesting, actually delaying or stopping nesting activity.

Metal nest boxes are light weight compared to wood boxes of the same size and designs.

These large T boxes are for large umbrella,moluccan, and all other large cockatoos.






Nest Boxes take several days for shipping, many nest boxes are made as orders come in.


This item is also in the following categories: